The Greenest Floors
While purchasing environmentally-friendly products used to be a luxury, consumers today now expect companies and manufacturers to be mindful of the earth in the manufacturing, packaging, and distribution of products. In the flooring industry, the team here at Hamernick's has watched as carpet and flooring manufacturers have made remarkable strides in creating green floors and improving manufacturing processes in the flooring industry. How have you and your family evolved when it comes to purchasing eco-friendly products for your home?
When it comes to your home, selecting green home products, like environmentally-friendly flooring, is a choice that benefits both mother nature and your family. The greenest floors preserve natural resources, utilize less waste, and may either contain recycled content or be recyclable. Hamernick's has compiled a list of the greenest flooring options so that you can make the best choice for your home.

Solid hardwood is an eco-friendly flooring choice because it's primarily made of natural materials- wood- that have come from domestically managed forests. Minimal processing and additional materials are used besides staining and a wear layer. For a stylish and green solid hardwood flooring option, check out Oak Solid Bellingham from Shaw Floors.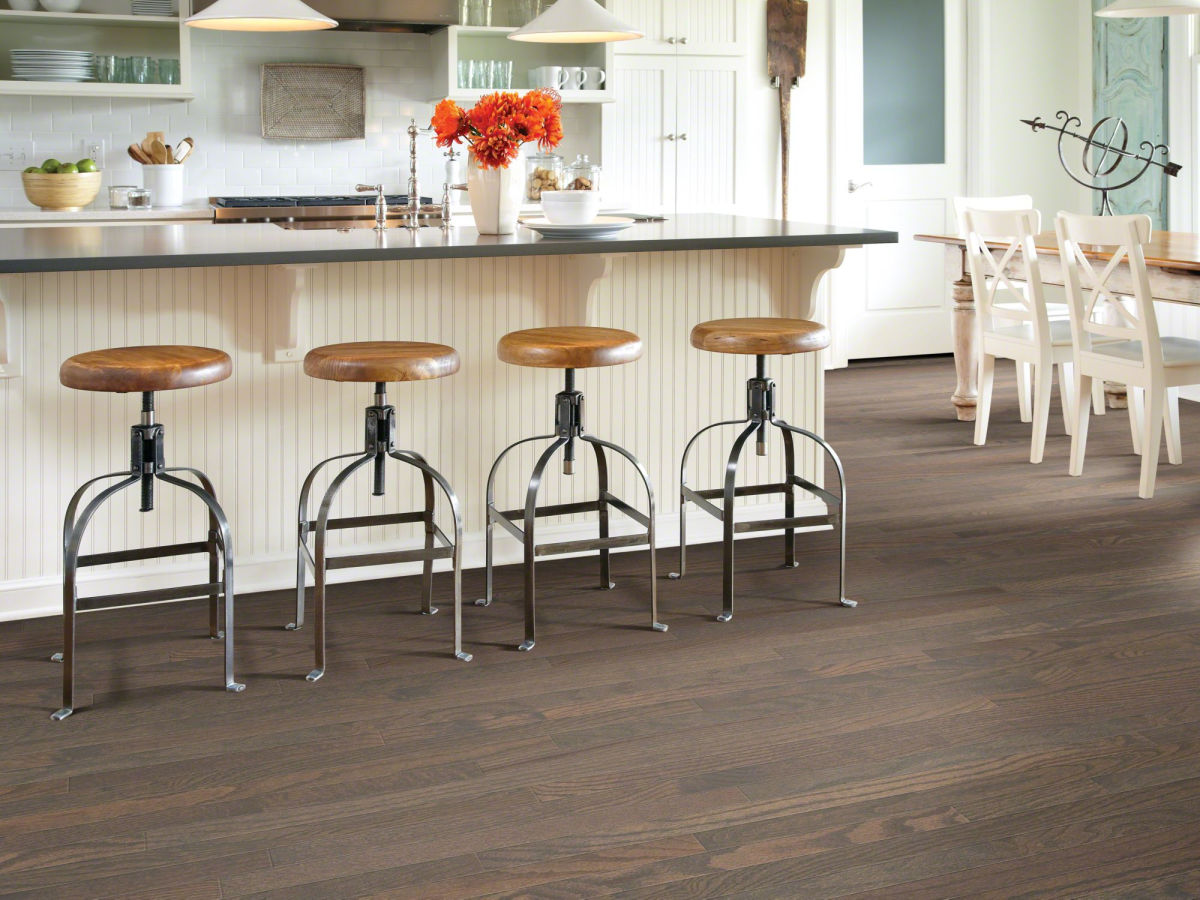 Manufactured using a core that oftentimes utilizes wood byproducts and environmentally-friendly processes, engineered hardwood can also be a smart green flooring choice. With major design innovations in engineered hardwood, the possibilities are endless. For a dramatic textured visual, check out Anderson Hardwood Bernina Maple by Anderson Tuftex.
Ceramic and porcelain tile are both considered green flooring choices because they're made of natural materials. Because ceramic and porcelain tile is baked, these products emit low or no VOCs into the air. Plus, ceramic and porcelain tiles are easy to clean and maintain.

While synthetic carpet is not completely a green flooring choice, carpet manufacturers have vastly improved materials and manufacturing processes. For example, all carpets made from Type 6 nylon, like Anso nylon from Shaw Floors, are recyclable. Plus, carpets and rugs made of natural materials like wool, sisal, jute, and seagrass are good green choices.
To verify that your carpet and flooring choice is green, be sure to ask us here at Hamernick's if the product is Green Label Plus Certified, which is a third-party certification performed by the Carpet and Rug Institute.
Hopefully, these choices have shown you that you don't have to sacrifice style in order to make an eco-friendly flooring choice for your home. Are you ready to shop for green flooring options for your home? Contact us today to schedule a free design consultation or stop by our showroom to get started.
"*" indicates required fields
Step Into
The Inner Circle